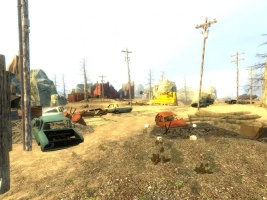 99 Bolts is an survival-themed FPS set in the Half-Life 2 universe. The game takes place several years after the Seven Hour War, but several years before City 17 is destroyed.
The player will traverse a vast expanse of nuclear wasteland sitting on the outskirts of a Combine-controlled city.
Alongside a scavenged arsenal of pistols and machine guns, the player must use 99 crossbow bolts wisely and efficiently to assassinate the city's entire Combine chain of command - including its violent and enigmatic adminstrator, Ava Winona.
Features
Edit
An urban and suburban nuclear wasteland to explore and pillage
You can snipe to your heart's delight with 99 crossbow bolts (but use them wisely)
An interesting take on the aftermath of the Seven Hour War
May 2009 - Concept sketches for 99 Bolts maps began.
June 2009 - The Mod DB page for the mod was started in June, alongside Hammer mapping.
September 2009 - Some "proof of concept" maps were released, to test the community's reception of semi-linear wasteland gameplay.
October 2009 thru May 2011 - Production went smoothly. A great deal of story-writing and level concepts were made. Also, a lot of the minute-by-minute gameplay was fleshed out. A few people volunteered to assist with the mod.
May 2011 - The mod went on a production hiatus in May 2011 so the lead designer could make time for a more fruitful Half-Life 2 mod: Room Escape.
Ben Dunbar - Level design. Started learning Hammer in January 2009. (AKA "zonbie")
Tidus - Models. Part-time status.
Bekey - Textures. Part-time status.
External links
Edit