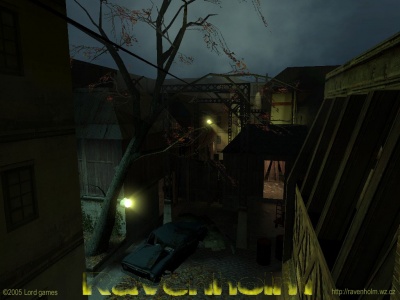 Introduction
Edit
Developed in the Czech Republic by Lord Games, Ravenholm is a single-player Half-Life 2 modification based around the terrifying atmosphere, visuals and gameplay from the Half-Life 2 chapter of the same name. With a different and greatly expanded story and many new locations, you will find yourself battling many more zombies, headcrabs and more in a bid to free the town from this horrific, nightmarish infestation.
In-Game Information
Edit
Crowbar
Frag Grenade
USP Match Pistol
H&K MP-7 Sub-Machine Gun
MP-7 Grenade
SPAS-12 Shotgun
Combine Assault Rifle
AR2 Secondary Energy Orb
.357 Magnum
Rocket Powered Grenade Launcher
Characters / Allis
Edit
James
Michael
Resistance Soldiers (Beginning Cutscene)
The Vistor (Vortigaunt)
Father Grigori
Regular Headcrabs
Regular Zombies
Regular Zombie Torsos
Fast Headcrabs
Barnacles
Antlion Guards
Fast Zombies
Poison Headcrabs
Poison Zombies
Combine Soldiers
Combine Turrets
Combine Helicopters
Information
Edit
Ravenholm website (English) - includes downloads and links to French, German, Polish, Russian and Spanish translation packs.
The sequel to the story after John (our player) escapes from Ravenholm. It goes on to Eye of the Storm.