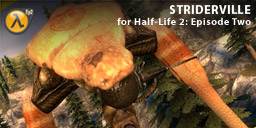 Engine: EP2
Released: June 26, 2011
StriderVille is a mapping competition currently going on on Planet Phillip.com. The competition ended on Monday June 19, 2011, so it's too late to make a map, sorry! The main source of this Ville is the Strider from Half-Life 2. StriderVille is the result of a mapping competition.
The competition only received 2 entries, which was very disappointing, considering how succesful the last one was.
This mod is dedicated to the memory of Jasper, who was really looking for to playing it.
Click at the bottom link for more information.
Outland Route
Edit
Author: Samuli "Hemuuuli" Jääskeläinen
Crowbar
Pistol
.357 Magnum
SMG
Shotgun
Grenades
SMG Grenades
Gravity Gun
Rocket Launcher
Characters / Allies
Edit
Antlions
Combine Turrets
Hunters
Antlion Workers
Striders
Headcrabs
Cold Fusion
Edit
Crowbar
Gravity Gun
Pistol
SMG
Shotgun
Grenades
.357 Magnum
Hopper Mines
AR2
Energy Orbs
Crossbow
Magnusson Bombs
Characters / Allies
Edit
Antlions
Antlion Workers
Headcrabs
Striders
Fast Zombies
Zombies
Zombines
Barnacles
Poison Zombie
Combine Elites
Combine APCs (inactive)
Combine Sniper
Hunters
Combine Turrets